Voyage to the Helm of Pusser's Rum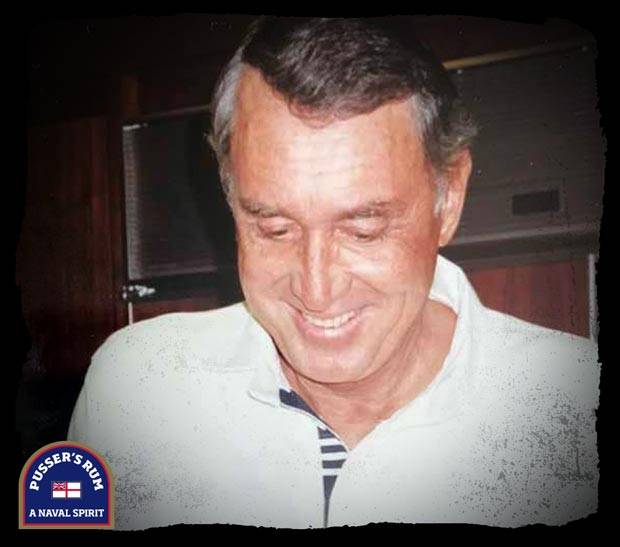 A TRIBUTE TO THE LIFE OF JAMES 'JIM' JACKSON
Jim Jackson came to the chairmanship of Pusser's Royal Navy Rum by a circuitous route. Born and raised in Southern California, he dreamed of high seas adventures like most young men of his time and read stories of great British naval battles and voyages of discovery.
Coming of age at the end of WWII, he joined the Merchant Marines where he served from 1945-1947. During his service he traveled extensively, to the east and west coasts of the US, Japan, England and made numerous trips through the Panama Canal. Two memories from these travels still make his face light up; one is of listening to the Calypso music that the stevedores working on the canal made, with anything available, bottles, oil drums, sticks etc., the other is of his first sighting of the White Cliffs of Dover on the English coast.
After his two years in the Merchant Marines, Jim met and married his "moral compass," Aline Leona Glasko, a stunning half Native American and half first generation Irish American, from Rhode Island. She would remain the "secret of his success" for 57 years, providing wise counsel and loving support while also being a nurturing mother to their four children. Not long after they married, the Korean War broke out and Jim found himself once more heading off to sea when he enlisted in the Navy.
After his Naval service, Jim found his first civilian career calling when he began as a trainee at the brokerage firm of Bingham, Walter & Hurry, where he learned the brokerage business from the ground up. In the late fifties with two partners, he began his own firm, Rutner, Jackson & Gray. In the early sixties he partnered with Boyd Jeffries to form a new company where he remained into the early seventies.
During his time at Jeffries & Co. he spent nearly as much time in their New York offices or commuting, as he did at home in Los Angeles, leaving little time for family or leisure. This prompted Jim to reinvent himself again. In 1974 on a family trip through the Southwest with Aline and his two youngest children, they stumbled upon their new home, an idyllic ranch set at the feet of the majestic La Plata Mountains some 30 miles from Durango, CO.
Jim met his next business partner Robert Colgan, when he drove into Durango to make inquiries about the beautiful ranch they had seen. Durango is an historic old west town in the four corners region of Colorado and home to the oldest, continuously running, narrow gauge railroad in the country. It was love at first sight and the beginning of his interest in historic preservation and restoration, which continues to this day.
He relocated his family to the ranch outside of Durango in 1975 and began purchasing historically significant properties in town, many in dire need of love and attention, to prevent their demolition. He could not bear to see his new home lose the Old West charm that had initially drawn him to it. Some 20 years later, it was with this frame of reference that James was first introduced to the Pusser's Rum Story, while on business in the British Virgin Islands. In Pusser's Navy Rum he found an historic product worthy of preservation and restoration, and in need of love and attention.
In 2002, the opportunity arose to purchase the exclusive recipe and rights owned by Jim Beam Brands, having been sold to them in 1990 by Company founder, Charles Tobias. After becoming familiar with this "storied rum" and with encouragement from Tobias, Jim came to the conclusion that the time was right to rebuild the legacy of "liquid history" and agreed to personally fund the acquisition of Brand. Tom Jago, creator of such iconic brands as Bailey's Irish Cream, Bombay Sapphire Gin, Malibu and many others, said this of Pusser's Rum: "…few brands, big or small, have the historical authenticity of Pusser's Rum. On second thought, no other brands!"
It was Jim's mission to see that Pusser's Navy Rum achieve its rightful place on the "Top Shelf" of every well-appointed drinks cupboard. He unselfishly funded the strategic initiatives of Tobias until his retirement in 2012 and those of its current President & CEO, Gary Rogalski, in accomplishing that mission.
May Jim rest in peace knowing that he will always be remembered for restoring "The Pusser's Rum" and the key role it played in the annals of the Royal Navy and its place in "Liquid History."
- UP SPIRITS! -
---